Cabanaconde belongs to the Department of Arequipa, Caylloma province , located at an altitude of 3,278m , 5 1/2 hrs by bus from Arequipa. It is situated on the left bank of the Colca River. Cabanaconde is one of the last villages of the Colca Valley and one of the less visited places by tourists. The landscapes of Cabanaconde offer beautiful views of the Colca Canyon such as Cruz del Condor viewpoint, Tapay viewpoint, Achachiwa viewpoint, snow capped mountain of Sepregina (5432 msnm) and Bomboya(5,150 metres), beautiful ancient pre - Inca terraces, archaeological ruins as Kallimarka (3,700 metres), Hualca- Hualca volcano (6,025 metres) and the Lagoon of Mukurka (4,310 metres)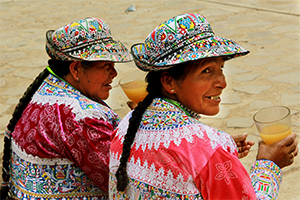 In the village of Cabanaconde live approx. 3000 inhabitants. Most of its people work in agriculture and cattle raising. Cabanaconde is so famous among the south part of Peru for it is unique type of maiz called Cabanita corn. The maiz can be seen on the pre-inca terraces from December till Mars, during the raining season. People from Cabanconde still speak Quechua language.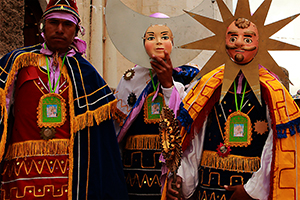 Women from this village wear proudly their traditional costumes and they are well known for their stunning embroidery colorful hats that are inspired by the flora and fauna that surrounndes Colca Valley. These hats were weared in the past just by the inhabitants of Cabanaconde in order to be distinguished from Collaguas. Nowadays you will find people from Colca wearing these beautiful hats.
We invite you to visit Cabanaconde if you love to do something different and love nature. This village is totally isolated and full of traditions. The main tourist activity is hiking because most of the trails start here. You can just visit the village and its surroundings without hiking or you can simply come to explore the viewpoints of Colca Canyon. Pachamama offers tour on mule and bicycle trips. More information Here.
Witite Dance
During the holidays of Cabanaconde, the village highlights a dance of a worrier origin which nowadays it is a dance of love where men dance dressed as a woman. The dress of the dancers is something you can not miss it. This dance is the most characteristic cultural expression of Colca Canyon.