CANYON CANYON - VILLAGE OF CABANACONDE
colcapachamama@gmail.com
THE VILLAGE OF CABANACONDE
Cabanaconde belongs to the Department of Arequipa, Caylloma province , located at an altitude of 3,278m metres, 5 1/2 hrs by bus from Arequipa. It is situated on the left bank of the Colca River. Cabanaconde is one of the last villages of the Colca Valley and one of the least visited places by tourists. The landscapes of Cabanaconde offer beautiful views of the Colca Canyon such as Cruz del Condor viewpoint, Tapay viewpoint, Achachiwa viewpoint, snow capped mountain of Sepregina (5432 msnm) and Bomboya(5,150 metres), beautiful ancient pre - Inca terraces, archaeological ruins as Kallimarka (3,700 metres), Hualca- Hualca volcano (6,025 metres) and the Lagoon of Mukurka (4,310 metres)
In the village of Cabanaconde live approx. 3000 inhabitants. Most of its people work in agriculture and cattle raising. Cabanaconde is so famous among the south part of Peru for it is unique type of maiz called "Cabanita corn". Las terrazas de Cabanaconde albergan el preciado maíz entre los meses de diciembre y marzo, durante la época de lluvia..
Women from this village wear proudly their traditional costumes and they are well known for their stunning embroidery colorful hats that are inspired by the flora and fauna that surrounndes Colca Valley. This hat was weared in the past just by the inhabitants of Cabanaconde to be distinguished from Collaguas.

RUINS OF KALLIMARKA ( 3,700 metres)
Kallimarka ruins is on the hill of the same name which it lies Sout-East of Cabanaconde. This abandonded ruins belonged the Cabanas culture, before the Incas, it was an important settlement with a strategic location. The ruins of Kallimarka offer a great view of the pre-inca terraces and a great view of it is Apu, god in Quechua language, the Hualca-Hualca volcano. We definitely recommend you to hike this short walk if you are in Cabanaconde.
DIRECTIONS:
You can get more information at Pachamama. Go South-East of Cabanaconde and ask local people the route to HUAMBO. Follow the route till you find a placard that it says "Kallimarka". Take the trail to the left of the placard and hike till you get again to a route. You will find 2 other placards, find the old one and follow the path which is all the way up to the ruins. The walk takes about 4hrs. go and back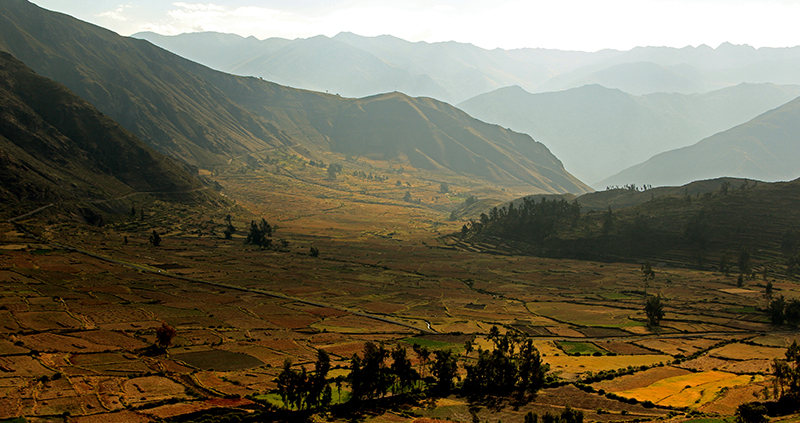 CABANACONDE VIEWPOINTS
Cabanaconde is not only a place for hikes, but you can also enjoy of great views of Colca Canyon and its surroundings. There is plenty of nice lookouts in this village such as Cruz del Condor viewpoint which is only 20 minutes by bus. If you like authentic places and do some different Cabanaconde is the right place for you.
MIRADOR CRUZ DEL CÓNDOR ( 3,650mts)
Do you want to see Condors?
Well, Cruz del Condor ( 3, 650 metres) is consider a unique place for viewing condors, but it is also the most visited spot for tourists in Colca Canyon. These majestic scavenger birds start gliding in the morning from 7:00am to 10:00am.
Enjoy from the breathtaking landscapes of Colca Canyon, you will appreciate a depth of 1,250 meters.
From Cabanaconde to Cruz del Condor, you can take a local bus, it takes only 20 minutes by public bus. The first bus is at 06:30 am. At the viewpoint you can buy some food as well such as avocado, cheeses sandwiches and we RECOMMEND you to drink a hot Coca tea.
You can walk from Cruz del Condor to Cabanaconde and stop at Mirador Tapay, the walk takes about 3hrs ( 16km)
RECOMMENDATIONS:
To visit this viewpoint you must have a tourist ticket (70.00 sols) if you do not have you can buy from the rangers, but check your tourist ticket if it has the actual date.
Obey the sings that are found in the viewpoint.
Keep warm; it is cold in the morning.
Keep in silence; this is still a sacred place.
Do not get close or walk on the edges. It is Dangerous!.
MIRADOR DE TAPAY (3,600 metres)
This is a very alternative viewpoint and very tranquil, not much people. The view is astonishing as Cruz del Condor and it is a good spot to see Condors . You can get a great view of the villages that are found at the bottom of the Canyon, as Tapay, San Juan de Chuccho, Malata, Coshñirwa and an amazing view of Sepregina mountain.
Take at 06:30am the local bus from Cabanaconde it only takes 15 minutes. You can walk back to Cabanaconde 1 1/2hrs by taking a short-cut where the water swimming pool is.
Do not get close to the edge!. Dangerous!

STARTING POINT FOR TREKKING COLCA CANYON
Most of the trekking in Colca Canyon starts from Cabanaconde. Cejana viewpoint, San Miguel Viewpoint, and Achachiwa are the most important viewpoint to start your hike. It is very important to recognize them before you start your hike, you can ask to your hostel in Cabanaconde or to locals for these Viewpoints. At Pachamama you can get good directions.
MIRADOR CEJANA ( 3,350mts)
STARTING POINT TO SANGALLE
This lookout is the starting point for Sangalle (Oasis). It is only 20 minutes walk. Take Grau Street, this street faces the church San Pedro de Alcantara, ask locals, walk till the end of the street, then turn right and continue the path, you will pass many terraces, keep going in the safe path till you get to the lookout, you will clearly see it and there is couple of big rocks laying there. There is a control for Tourist ticket so make sure you have with you. The trail is very OBVIOUS from the viewpoint to Sangalle.
RECOMMENDATIONS:
If you hike to Sangalle make sure you start early, it is not safe to start a hike after 1:00pm
Path are very clear, do not follow unclear paths

SAN MIGUEL VIEWPOINT (3400mts)
START POINT FOR THE TREKKING TO SAN JUAN DE CHUCCHO
It is about 25 minutes away from the village of Cabanaconde. This is the start point for San Juan de Chuccho. Walk on the pavement route for 20minutes, you will pass the Cemetery of Cabanaconde, after you will pass the Museum of Juanita which is not open yet, keep going till you find the Football stadium. Stop following the pavement route and now follow the path that goes next to the stadium. About 5 minutes later you will reach the Viewpoint of San Miguel which is a little hut with some seats of stones, there is some terrible information in the panel that is found in the Viewpoint, so do not follow the directions. The trail to hike san Juan de Chuccho is on the right hand of the Mirador, a very obvious trail.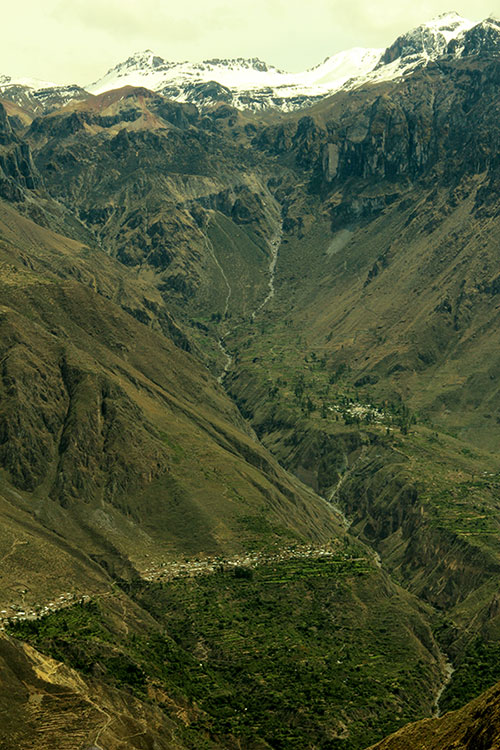 ACHACHIHUA VIEWPOINT (3,320mts)
START POINT FOR THE TREKKING TO LLAHUAR AND FURE
This lookout is one of my favorites. The view is just amazing you have a different view comparing to the others lookouts, if you are in Cabanaconde you must visit this outstanding lookout and it is special before sunset. I have been here many times and I saw condors flying back to their caves, but of course it is matter of luck.
Mirador Achachiwa offers a beautiful panoramic view of Colca Canyon, its villages, the Colca River and the Hualca-Hualca volcano, and if you have a good eye you will see at distance the waterfall of Fure.
This Mirador is very important if you are planning to hike the trek to Llahuar or Fure so it is recommended to recognize it before the hike. It is only 25 minutes on foot from Cabanaconde. From Plaza de Armas of Cabanaconde you can ask to locals for some direction, ask where the bullring or Achachiwa is. Go west and find the bullring arena, this is just a small arena and its walls are painted in red. Surround the arena to the left, coming from Cabanaconde, and you will see a trail to the right that will take you to an abandoned football field, pass behind the football field and follow the path…5 minutes more you will get to the mirador which is a hut with a straw roof.
There is 2 trails from the Arena, when you come from Cabanaconde, the first trail is on the right and there is a panel if you follow that trail it will take as well to another Mirador that is also called Achachiwa. But you must find the trail which takes to the abandonded field.
Do not explore down the Viewpoint, it can be very slippery and dangerous, just stay in the platform, there were reports of people falling. So stay safe at the Mirador.